1977-03-03
From PoliceWiki
1977-03-03
flyer for the Roxy concert
a button with a photo from today's concert
The Roxy live LP - green line for Stewart and blue for Zecca added by the PoliceWiki
Performance summary
Artist performing:
Cherry Vanilla
Tour:
1977 Cherry Vanilla Tour
Venue:
The Roxy Club
Location:
London, England, UK
Support acts:
The Police, Chelsea
Ticket prices:
UK pounds: 1,50

On 1977-03-03, The Police performed at The Roxy Club in London, England, UK.
Setlist
Cherry Vanilla set 1

Cherry Vanilla set 2
Recording information
There's an audio recording with some The Police songs and one of Cherry Vanilla 's sets. It was recorded by Bruno Blum on a stereo Sony Walkman TCS-300.
Grand Hotel is not on the cassette recording, but the opening riff can be heard right after Clowns Revenge.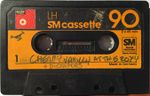 Trivia
The Police load their stuff into the truck at 12:00pm. Soundcheck at the venue is around 05:30pm. There's time to rest and have dinner afterwards.
Chelsea play first, then Cherry Vanilla and band, then The Police, then Cherry Vanilla again.
Early ads in various UK magazines show that this concert was originally scheduled to take place at another venue: "Charing Cross Global Village"
Cherry Vanilla was wearing her famous LICK ME-shirt.
An official live LP (with songs from various bands recorded at the Roxy in 1977) features Stewart Copeland and Zecca Esquibel on the cover (although there's no The Police music on the record) ! The photo was taken after today's gig at The Roxy Club. You can clearly see the TAMA bass drum Stewart used and two different people on stage - the left one is Stewart Copeland, the right one is Zecca Esquibel.
See also
External links
This section needs more information.
References
sources: Stewart Copeland's diary; flyer; Melody Maker + NME + SOUNDS + Record Mirror ads March 5, 1977; photos, reviews... SNIFFIN' GLUE No. 8; Cherry Vanilla, Zecca Esquibel, Bruno Blum