2008-08-07
From PoliceWiki
2008-08-07
a photo from this concert - provided by Dietmar
a photo from this concert - provided by Dietmar
a photo from this concert - provided by Sockii
a poster for this concert - provided by Miquel
an ad for this concert in The New York Times - June 8, 2008
backstage passes for this concert
backstage passes for this concert
schedule for this concert - provided by Christophe Laversanne
Performance summary
Artist performing:
The Police
Tour:
2007-2008 Reunion Tour
Venue:
Madison Square Garden
Location:
New York, NY, USA
Support acts:
The B-52s
Ticket prices:
$79.50 - $5,000

On 2008-08-07, The Police performed at Madison Square Garden in New York, NY, USA.
Setlist
Recording information
There's a recording of this concert.
Trivia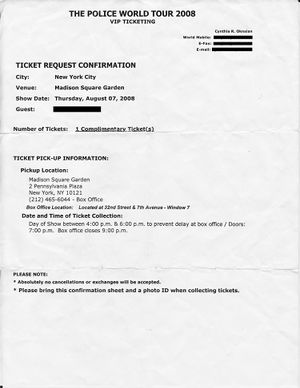 Tickets for this event were given away by ThePolice.com, StewartCopeland.net, and Sting.com.
The New York City Drum & Bugle Corps came out with the band for the performance of Message In A Bottle.
Several of Sting's daughters and two of Andy Summers' boys joined the band on stage to dance during Every Little Thing She Does Is Magic.
Bobby Sager, the photographer who took the photos used on the screens during Invisible Sun, was brought on stage at the end of the song.
Before the first encore, the video screen showed Sting being shaved by two women, receiving a manicure, and a kiss from Stewart Copeland, and Andy (See video below).
Stewart's Flag was raised on stage during this break before the encores.
At the very end, three men came on stage in opera style drag, including exposed fake breasts on the center character, and the fat lady sang. The fat lady's song was "Ritorna Vincitor" from Verdi's Aida.
Following the fat lady singing, the Looney Tunes closing sound played, with Porky Pig saying "That's all, folks".
Funds raised from the sale of tickets were donated to public television stations in New York and the MillionTreesNYC program, which aims to plant one million trees on New York City streets. On a side note, Mayor Bloomberg made a donation to the Central Park Conservancy to dedicate a park bench to Sting & Trudie, related to their support of the million trees program. How to find that bench: from Central Park West, enter park at 63rd Street, proceeding east. Cross the road and walk toward the Hecksher Ballfields. At the ballfields, turn left and walk along the path outside the fields, heading toward the Carousel. Sting's bench is within a series of benches set up in threes at the top end of the ballfields, parallel to Central Park South.
See also
External links
Photogalleries
Video
Reviews and discussion
References