2014-12-13 (Stewart Copeland)
From PoliceWiki
Stewart Copeland jammed with guests at the Sacred Grove in Los Angeles, CA, USA.

Dietmar's report:
"It's 10:30am in the hills above Los Angeles – after a breakfast at the diner next to our hotel Fabio, Jay, Megan and I arrive at the Sacred Grove.
When we ring the bell for a second time Stewart Copeland opens. The studio is as comfortable as I remember it from previous visits, decorated with sofas, pillows, antique chairs, carpets and lots of instruments and memorabilia. The lighting is a bit dim, with a few narrow windows letting in some of the December sun plus some artificial lights.
Stewart is just being Stewart. So after some chatting, cokes and coffee the newbies don't feel initimidated for long. There's a lot of interesting stuff to see: a snare from Curved Air times leans against a window, those Klark Kent instruments in the middle of the room (a Gibson SG, the Fender Telecaster Bass and a Fender Stratocaster that has seen the world with The Police, too). The Van Zalinge Bass "Fred" is still there, as is The Flag. And there's an old Roland Chorus Echo which was put to good use during The Police concerts!
Probably hundreds of other instruments there as well, a lot of them bought cheaply from ebay. Books, Grammys, photos, memorabilia, masks, awards and whatnot on the shelves and walls... too much information.
The bell rings - and special guest Thomas Lang enters the Grove. Fabio knew him before. I was in touch with him for the PoliceWiki. And as he was in Los Angeles at that time due to an operation to his left hand he was a safe bet to be another guest at Stewart's place.
Although we occupy the Sacred Grove for several hours we only play three numbers - but it feels right to spend most of our time there talking.
Fabio, Jay and I start with a kind of blues, because I have to do something "easy" to get loosened up on the guitar. Doesn't work at all. Everything I was able to play at home remained there - at least that's my impression. Stewart joins us by playing octobans and percussion, while Thomas Lang still rests his injured hand. Megan starts to take a lot of photos.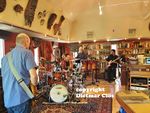 The next song is our surprise for Stewart: "Theme For Kinetic Ritual". Again my guitar skills are reduced to cramps, but it's fine anyway. Stewart joins on several brass instruments and then moves to the percussion rack, while Thomas Lang takes over the octobans. The song is over; I'm sweating, because all the air gets into the Grove at the other side of the room. We're having a break, listen to the recording, have drinks and sandwiches.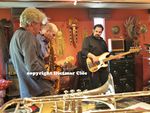 After the break Stewart puts up a microphone - there's only one guy who can sing and that's Fabio. Stewart takes over the drums. Our song of choice is "Walking On The Moon". Thomas plays octobans while Jay starts filming with his cellphone. Soon we can imagine what Sting must have felt so many times: the song is way too fast!! And where the end was supposed to be the drummers just don't stop drumming, so we improvise a middle section - with Thomas on percussion and Jay now on octobans we've got three drummers. This means that the song becomes faster, even ridiculously so! It sounds as if several drummers are rolling down a hill together...
We stop the song with a Telemark landing of mine and everybody laughs. This was cool. Even my guitar was kind of OK. We don't feel the need for another song - we just go on chatting. I take photos of almost everything inside this room as I need them for a report in a German drum magazine.
Jay has got to leave for work. Stewart hands over the audio files to Fabio who's already looking forward to mixing them. We'll get the video files later. Fabio, Megan and I drive to Malibu with Thomas Lang where we have dinner at Duke's. Now we're hamburger buddies with another very gifted and likeable drummer! Megan returns us to our hotel, where we wonder if this was all real..."

Here are some more photos of Stewart Copeland's drumset - including THE snare that was used on all The Police records and tours:
See also
External links
References
sources: personal experience